Here's what the latest Vikings: War of Clans update has added to the game!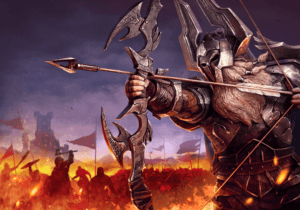 New levels for Towers of Fury
Now, Towers of levels 13–18 will appear during the Kingdoms Battle: Fury. Capture them and earn even more rewards in this Competition!
A fifth level for the Clan Stronghold and new jötunn troops
You can now upgrade buildings in the Clan Stronghold to level 5 and the Tower of Odin to level 6. After you activate Siege status at level 5 of the Tower, your Stronghold will also be attacked by troops led by jötunn warlords, and at level 6 of the Tower – by troops led by jötunn generals. The game update has added troops led by jötunn spies to the game, too.
Remember that only the strongest of Jarls can stand against a troop led by a jötunn general, so you'll need to prepare your defenses carefully!
Upgraded Legendary gems and Celestial gems
You can now fuse gems of Legendary class to obtain upgraded versions of them. To create a Legendary I, II, or III gem, you need to select a Legendary gem of the previous level in the Cache tab of the Workshop and fuse it with a specific quantity of other gems. Upgraded Legendary gems of levels II and III each grant several bonuses at once.
Special Celestial gems have also been added, which each grant four bonuses. These are Celestial Rhodonite, Celestial Spinel, and Celestial Opal.
Inlay your equipment with the new gems and gain an advantage over your opponents!
We also added the following features with the game update:
Sixteen new pieces of Shamans' equipment
Shamans' equipment upgrades
New Place of Power Reputes; some of the existing ones have been changed
Another secret achievement, and much more
Jarls, hurry and download the Vikings: War of Clans update: it'll make 2021 even more exciting!