Let's take a look at all the new features that have been added to Vikings. The update is now available on all platforms.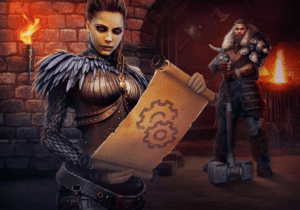 Included in the update
Seasons are periods during which seasonal personal Competitions are held. Taking part in them earns you Runic Coins, which can be spent in the Seasonal Store on unique items, Hero's Skins, and Town Skins.
The difficulty of daily, weekly, and monthly Quests and the rewards for them are now modified individually for each player.
You can now share in chat the coordinates of a Fortress that is the target of an Onslaught.
There is now a Holmgang category in the Clans ranking – check your Clan's place based on the number of victories in this epic Competition.
The bonuses from the "King of the North" and "Among the Strongest" achievements, as well as from one secret achievement, have been increased.
You can now transform more resources in the Clan Stronghold.
Battle reports show the number of Soul Shards that you've earned.
In Holmgang, the Forts of the opposing sides may differ in terms of their levels, but the sums of the levels for all phases will always be equal.
Added at players' request
More ways to spend Soul Shards. Upgrade buildings in your Town to level 40, train tier VIII warriors, and improve their stats in the Valkyries' Citadel.
Building levels 36–40. From level 36, the Forge, Workshop, Rune Workshop, Hero's Abode, Hall of Mysteries, War Block, and the Sanctuary of the Aesir provide additional military bonuses.
Tier VIII warriors. They have emerged from Hel's realm and are waiting for your orders.
The second stage of secret Knowledge in the Oracle. It unlocks after you've reached Oracle level 36.
Bloodlust. This special secret Knowledge provides a bonus to troop offense during attacks on Towns but temporarily prevents you from using a Peace Treaty.
Warnings that are displayed when you spend Marks of Resolve in the Helheim Store or Gold when upgrading buildings, Knowledge, troops, and Aesir, as well as when training, healing, and resurrecting your warriors.
Additional data in the info window about Invaders and Ghosts. Now it shows how long they'll be on the Global Map and all the materials and runes that can be obtained by attacking them.
Supreme Ghosts. They have much more health than level 6 Ghosts, but the reward for attacking them is more valuable as well.
A new list of offers in the Clan Store and the Item Catalog. The cost of items has also been updated.
Install the latest version of Vikings: War of Clans! The update will add new features to the game and fix some issues.