Gold is a resource that allows you to purchase boosts and items, instantly upgrade buildings and Knowledge, and perform many other in-game actions.
In this article, we will tell you how to get Gold in Vikings.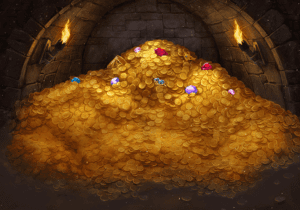 Syncing the game with Facebook
Sync your Vikings: War of Clans account with Facebook – this will allow you to restore your game progress if you decide to play on another device. After the first synchronization, Gold will be credited to your account.
The Reward for Loyalty
Log in to the game daily and claim Gold and various useful items as rewards.
The Chest of Loki
Open the Chest of Loki as often as you can and receive resources, items, Gold, and many other rewards.
Taking part in Competitions
Earn trophies and Gold for passing checkpoints in Competitions. You will receive additional rewards for taking the top places in the ranking.
New Hero levels
Upgrade your Hero to increase the bonuses for your troops and Town. You will get Gold for reaching some levels.
Banishing Ghosts and destroying Invaders
Fight Ghosts, Invaders, Uber Invaders, and Uber Invader Chiefs on the Global Map. You can receive gems, crafting materials, Gold, and other trophies for every successful attack.
Resource locations
To get even more free Gold in Vikings: War of Clans, send your troops to yield resources in the special locations on the Global Map called "Gold Fields" and "Gold of the Gods."
In Vikings: War of Clans, Gold is a resource that allows you to develop your Town faster and create a powerful army. Take every opportunity to supply your treasury.