Your Hero is a mighty commander who leads your troops on marches, adding bonuses to the military stats of your warriors. Your Hero can also attack Invaders, Uber Invaders, and Uber Invader Chiefs. In this article, you will learn everything about the Hero's stats in Vikings: War of Clans, Hero Sets and equipment, and much more.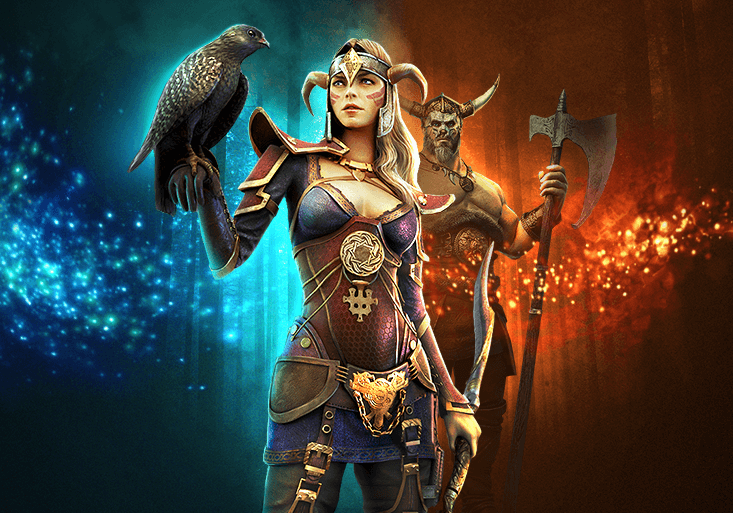 Hero's stats
In Vikings, you can choose one of several impressive looks for your Hero and create a unique and memorable Hero name.
Attack Invaders, learn Knowledge, and perform other actions to increase your Hero's experience and thus your Hero's level. Vikings, remember: with every new level, you will receive Skill points, which are necessary for upgrading the Hero's Skills.
In Vikings: War of Clans, the Hero's Skills give additional bonuses to a whole range of key parameters. They directly influence the military stats of troops led by the Hero and the economic stats of your Town.
To attack Invaders and Uber Invaders, your Hero needs energy. The stronger an Invader, the more energy you'll need to attack. In Vikings: War of Clans, Hero's energy is restored automatically over a certain period of time. You can speed up the restoration process with the help of Knowledge, Hero's Skills, boosts, equipment, and gems. Energy is also fully restored when the Hero reaches a new level.
Hero's equipment
In Vikings: War of Clans, Hero's equipment is a great way to stand out and get substantial bonuses to economic and military stats. Thanks to a variety of equipment, you can easily create Sets that will perfectly suit your gaming style. In the Workshop, you can inlay Hero's equipment with gems and runes, which will give you an additional advantage over your enemy. Read more about crafting and upgrading equipment in the article entitled "Crafting in Vikings: War of Clans. Equipment, materials, gems, and runes".
Hero Sets in Vikings: War of Clans
You can use Sets to save a specific selection of Hero's Skills and equipment. Use this functionality wisely: create Sets with necessary combinations to easily switch between them.
Save several Sets at once to be able to improve the Hero's stats in different situations. Decided to send your warriors to a resource location? Activate the economic Set. Enemy troops are approaching? Switch to the military Set. Just imagine: only a second ago you were a peaceful farmer, and now you are ready to fight!
Now that you know how to upgrade the Hero in Vikings, you definitely need to visit the Hero's Abode. There you can learn more about the Hero's Skills, change your Hero's appearance, save new Sets, and more.
Jarls, increase your Hero's stats to reach the peak of Influence!