In the world of Vikings: War of Clans, learning wisdom in the Oracle is the quickest way to create a strong and prosperous Town.
As you might have learned from our "Jarl's Town" article, Knowledge not only helps you increase your economic and military stats but also speed up some processes. Today you'll learn what you need to do to upgrade Knowledge faster.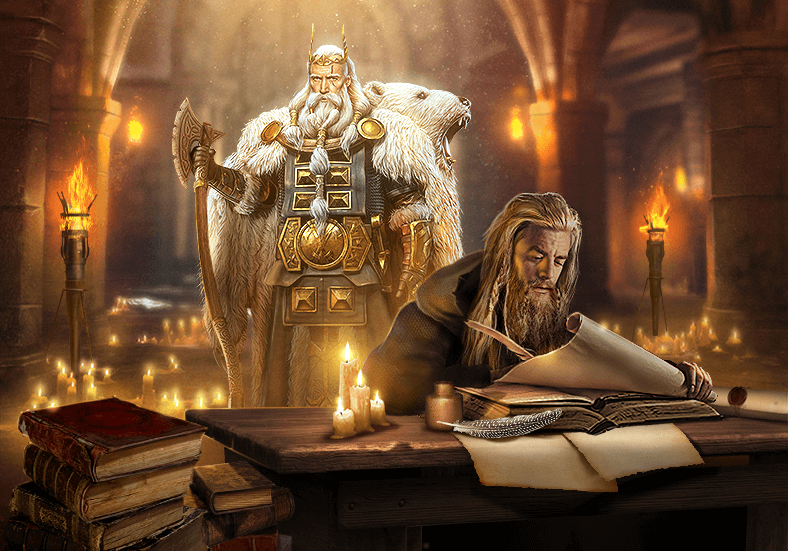 In Vikings: War of Clans, you can learn Knowledge using Gold or resources. In the first case, everything happens instantly, while in the second case the process takes some time. However, there are many ways to speed it up.
– Increase the Oracle level. Upgrading the building speeds up the learning process.
– Don't forget about your clanmates. If you are a Clan member, you can hit the green "Help" button and ask your friends to help you speed up a process in Town.
– Upgrade Knowledge during special events. For example, when the "Knowledge upgrades sped up by 10%!" bonus is active in the Events window, or after your Kingdom has won in the Kingdoms Battle or Kingdoms Battle: Revenge, or took one of the winning places in the Kingdoms Battle: Fury.
– Apply boosts. Activate items from the Knowledge Upgrade Speed category or a Town Skin with the necessary bonuses, for example, Bastion of the Beast.
– Create a suitable Hero Set. You can save a set of equipment and Hero's Skills that will speed up Knowledge learning. Switch to it when needed.
– Inlay Hero's and Shaman's equipment with gems and runes that have helpful bonuses, for example, Aquamarine or Sagacity.
– Summon Inga the Wise. The main ability of this Shaman is reducing the time and cost of Knowledge learning.
– Use the power of an Aes. Honir's blessing gives a bonus to Knowledge upgrade speed.
– Get the Scholar Repute. The Konung or the Elders of the Clan holding the Place of Power can assign it to you.
To quickly complete a Knowledge learning process, use speed-ups. An active VIP status will also help you finish faster. Also, don't forget about the Prophet item: you can use it to learn two Knowledge in your Town at the same time.
Jarls, learn the wisdom of the Oracle to gain might and power!