Vikings, we'd like to present a new legendary Competition: the Battle for Asgard! It takes place in a separate world where Clans capture Asgard Towers that are guarded by Asgard Sentinels.
The Asgard world
There is a new separate world called Asgard. Vikings can relocate there during the Competition. The world consists of two large areas:
The Floating Isles, where Asgard Towers are located. Bridges or gateways connect these Towers.
The Outlands, which represent an empty territory around the Floating Isles. Jarls' Towns are placed in this area when they relocate from their home Kingdoms.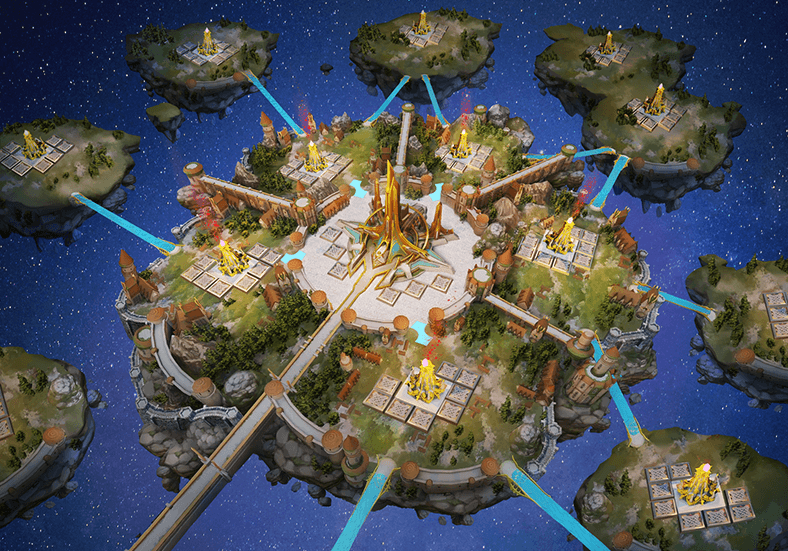 Rules of the Competition
The participants' goal is to capture Asgard Towers and earn points by holding them.
Asgard Towers differ in terms of their level. The higher a Tower's level, the more Asgard Sentinels it has, and the more points it grants. The lowest-level Towers can be found on the outermost Floating Isles, near the Outlands. The highest-level Towers are located in the Heart of Asgard.
In order to capture Asgard Towers, send your troops to them over bridges or through gateways. While in the Outlands, you can only capture the outermost level 1 Towers. When you have captured a Tower, you can relocate your Town to the territory around it, and from there, you can attack the next Tower that is connected with your Tower by a bridge or gateway.
Capture neighboring Towers one by one and gradually make your way to the Heart of Asgard in order to obtain more points in the legendary Competition. Remember, however, that each Clan can hold no more than four Towers at the same time!
Rewards in the Battle for Asgard
When a Clan passes checkpoints in the Battle for Asgard or reaches a top place in the Competition ranking, it receives Medals of the Aesir.
They are required in order to make purchases in the Asgard Store, a new section in the Clan Store. It sells items, pieces of equipment, Town Skins, and Hero's Skins. Only Chiefs can spend Medals of the Aesir there, and they can either keep the purchases for themselves or send them to their clanmates.
Vikings, the Battle for Asgard is calling you! Show the Aesir in the new legendary Competition what you are capable of.