Are you ready to fight for the title of mightiest Jarl and lead your Clan to the peak of influence in Vikings: War of Clans? The northern Kingdoms are waiting for heroes whose names will be sung in sagas.
By taking part in and winning major Competitions, you won't only reach the top of the ranks, but you'll also receive useful rewards and bonuses. The more points you earn – the more trophies you get. In Vikings: War of Clans, Competitions also play a key role in strengthening and developing your Clan.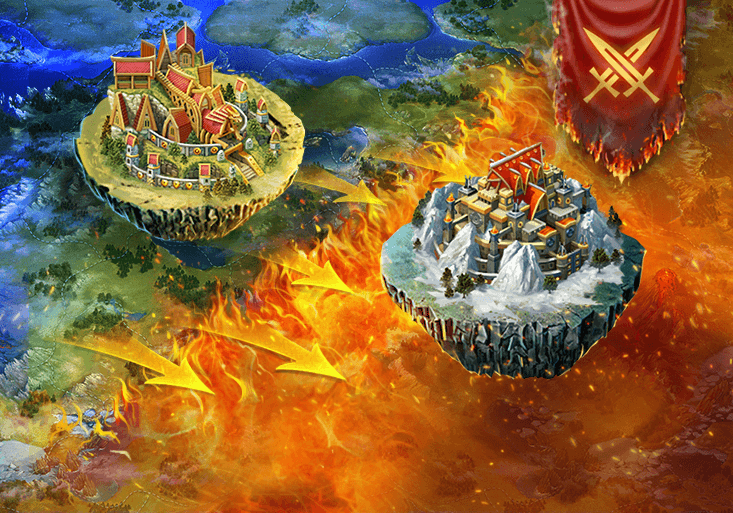 Types of Competitions
In Vikings: War of Clans, there are personal, clan, global, epic, and legendary Competitions.
Participate in personal Competitions to show other Jarls how powerful you are. Become the first in the ranking and set an example for the rest!
Fight for your Clan and win clan Competitions. Team up with your warrior friends and create a mighty alliance!
Glorify your home Kingdom in global Competitions. Travel between Kingdoms and obtain trophies and fame!
Challenge an enemy Clan during the Holmgang epic Competition. Go to the Islands of Trials and fight your opponents using all your strength and agility. Your reward will be a pleasant surprise!
The most merciless Competition in the North is the legendary Battle for the Throne Competition, which takes place in the lands of Jotunheim. There can only be one winner, who gets the special King of Jotunheim title, unique Hero's Skin and Town Skin, as well as many other rewards. The King of Jotunheim has the right to assign Titles to the Kingdoms and select the Invaders that the Jarls will fight.
Rivalry in Vikings: War of Clans – Leagues and rankings
To make finding opponents easier, Jarls, Clans, and even Kingdoms are divided into different Leagues. This way, new players compete with new players, while experienced warriors prove who is the worthiest Viking of them all. Leagues also help signal one's Influence ranking. In Vikings: War of Clans, the Influence of all Clan members is added together: this determines the Clan's League. In personal Competitions, the League is determined by the Palace level.
How Competitions help you level up in Vikings
You develop your Town and Hero by destroying enemy troops, yielding resources on the Global Map, constructing and upgrading buildings, and so on. In Vikings: War of Clans, there are also special bonuses, which are activated during Competitions and can help you level up faster. You can do what you usually do and earn points at the same time. When you earn the required number of points and pass a checkpoint, you will get various rewards and Gold.
If you're ready to test yourself in tough battles, enter the Vikings: War of Clans world with no fear. May your name go down in the history of the North!